eBike battery 13Ah 36V frame design
eBike battery 13Ah 36V frame design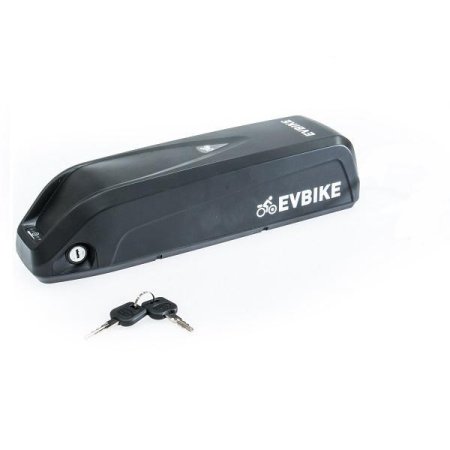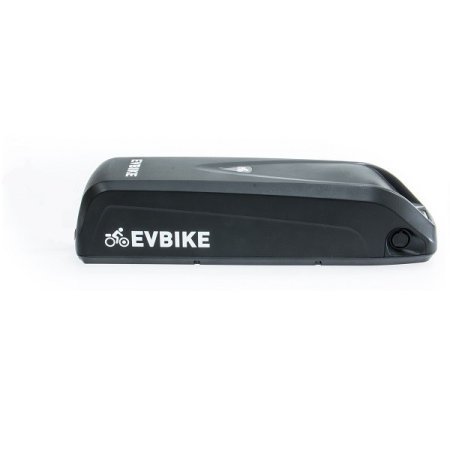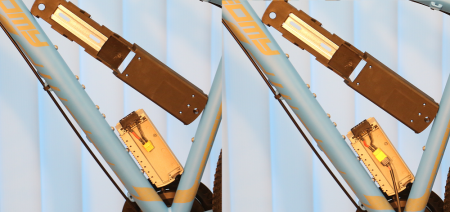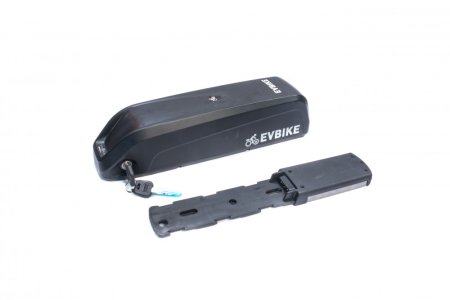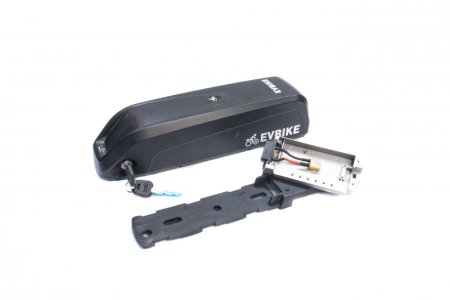 EVBIKE frame battery in black color. The battery has a capacity of 13Ah at 36V. Maximum real range is up to 130 km. Includes Intelligent Protection System (BMS). The battery can be charged with a 5A quick charger. More
EVBIKE frame battery in black color. The battery has a capacity of 13Ah at 36V. Maximum real range is up to 130 km. Includes Intelligent Protection System (BMS). The battery can be charged with a 5A quick charger. More
Product code: EVBAT36V13A-S
Enjoy a long range with the right battery
The high-capacity EVBIKE battery with a capacity of 13 Ah (468 Wh) is very easy to install on the bike frame instead of the bottle holder. The fact that the battery is at the center of the wheel, the optimal center of gravity is achieved. The battery is equipped with anti-theft lock. After unlocking, the battery can be easily removed from the holder, for example during charging or transport.
TIP: In the Downloads and Video tutorial, you will find all the technical information about the battery, videos for installing it, and manuals in PDF.
The battery includes an intelligent protective BMS module for balancing cells, their protection against undercharging and discharge. The battery has no memory effect and does not support recuperation. This battery can be charged with a 2A or fast 5A charger. The charger is not included.
Package contents:
Battery 36 V/13 Ah
mounting rack
2x keys 
Important for battery operation:
The battery must always be recharged before the first ride (after a long break) (I charge first, then I drive)
After driving, we recommend recharging the battery and not leaving it discharged
Before the end of the season and during long-term storage, the battery must be recharged to 50% (I will charge to 50% and then end the season)
Leaving the battery without maintenance will damage it and void the warranty (when I want to drive, I have to take good care of the battery)
TIP: Connect the charger to the mains first and then connect the charging connector to the battery. Otherwise, the connectors may be damaged.
Lithium cells are prone to damage due to deep discharge or overcharging. The EVBIKE batteries therefore have an intelligent programmable circuit controlled by a microprocessor. This circuit can put the battery to sleep when is not in use and protect it from rapid discharge. It also protects the battery in non-standard situations, when the battery is disconnected from the charger or traction contacts.
The range depends on the rider's weight, the intensity of the tread, the terrain relief, the riding style and the type of drive. When driving economically with a rider of weigh 70 kg, the range can normally be extended up to more than 100 km.
Parameters
Weight incl. holder
3,4 kg
Number of cycles
800 (capacity reduced by max. 30 %)
Cell composition
Lithium (Li-ion)
Optimal discharge current
15 A (max. 19A<5sec)
Dimensions
367 x 92 x 90 mm
Charging current
5 A, 2 A
Download