Full color LCD display 500c for mid-drive
Full color LCD display 500c for mid-drive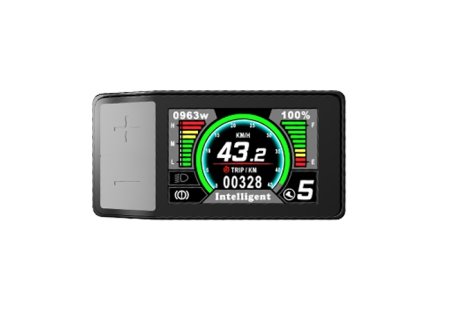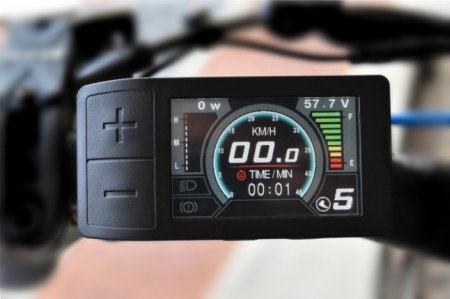 Color LCD display for EVBIKE mid-drives. The display shows the most important riding information and allows you to set up the system. The diagonal of the display is 2.2 ". More
Color LCD display for EVBIKE mid-drives. The display shows the most important riding information and allows you to set up the system. The diagonal of the display is 2.2 ". More
Product code: EVLCD-CMS-500C
Choose the display that suits you best
The color LCD display for 250 W, 750 W and 1000 W mid-drive motor is located on the left side of the handlebars. The display includes control buttons that control the entire motor. Thanks to the high contrast of the display, it is possible to read information from the display without difficulty even in direct sunlight. 
TIP: In the Downloads and Video ducts, you find all the technical information, videos for installation and manuals in PDF.
With the control buttons you set and control the whole system. Switch the system on and off, change the degree of assistance, the distance traveled, the total distance, etc. The control buttons allow a wide range of settings without the need to program the control unit. The adjustable display holder is very practical, with it you can adjust the display exactly according to your ideas.
TIP: You can unlock the speed limit of 25 km/h (off-road) yourself on the display without losing the warranty.
Information on the display:
Current speed (both numerically and graphically)
Battery capacity (% or V voltage)
Power W (graphically)
Power A (graphically)
Traveled distance TRIP
Traveled distance ODO
Assist level
Maximum speed
Average Speed
Riding time
Package contents:
Display with control buttons
Installation material
---
According to the ISO 13406-2 standard, we recognize 2 defective pixels or 4 defective subpixels and more as justified complaints.
Parameters
Dimensions
79 x 40 x 18 mm
Walking assistance
Yes (6 km/h)
Automatic display backlight
No
Display of ambient temperature
No
Download